Umali Lodge provides opportunities for cultural and wildlife ecotourism as well as on site private pursuits 
Serengeti and Nearby National Parks 
Umali Lodge works with local tour operators to develop affordable safari packages which combine knowledge of wildlife behavior with in depth cultural tours of Maasai Villages, Iraqw traditional sites, and the nearby Hadzabi. Conveniently located in Karatu, home to the Maasai and Iraqw tribes and a gateway to most of the National Parks in Nothern Tanzania, a variety of wildlife and cultural tour opportunities are available, including birdwatching from the many gardens of the Lodge itself as well as from closeby walking trails in the village.

Serengeti National Park
The Serengeti National Park, 99 miles from Karatu, is known for its size and diversity of wildlife. It is the most famous Wildlife preserve in Tanzania, known worldwide to naturalists for the ancient ritual of the annual migration of Wildebeests. Wildebeests and Zebras depart from the Serengeti where mating begins and travel north to the Maasai Mara in Kenya where the animals give birth, eventurally returning with their newborns to the Serengeti in Tanzania.
(Image: Zebra herd at Serengeti watering hole, c.wfidaobali)

Ngorongoro Crater Conservation Area Authority
Ngorongoro Crater is a conservation area and UNESCO World Heritage Site only 15 miles from Umali Lodge. The Ngorongoro Crater, a large volcanic caldera is home to most of the famous wild animals.
The Crater has the additional advantage of being home to several Maasai villages, thus providing opportunity to visitors of the B&B and the Crater to explore the culture of possibly the oldest tribe in Tanzania.
(Image: Wildebeests grazing in the Ngorongoro Crater, c.wfidaobali)
Lake Manyara National Park 16.1 miles
Tarangire National Park 62.5 miles
Lake Eyasie 40 miles
Arusha National Park  115 miles
Mount Kilimanjaro 128 miles (Machame Gate)
Cultural Tourism
Anyone at Umali Lodge will tell you about Iraqw and Maasai cultures. Umali staff are mainly from these two tribes. An organized optional ecotourism talk is available if you would like to know more in depth about Maasai and Iraqw cultures. 
The Iraqw Tribe of Northern Tanzania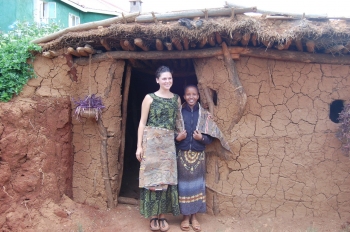 Umali Lodge is located amidst Iraqw people; there is evidence of their culture all around the compound. Iraqw traditional houses were dug underground. They served as a security precaution and protection from the weather. This underground house was built at the Lodge to honor Iraqw traditions and make them available to our guests.
The Iraqw are a Cushitic people of the Arusha and Manyara Regions of north-central Tanzania, near the Rift Valley wall and south of Ngorongoro Crater. In 2001, the Mbulu population was estimated to number 462,000. Recent advances in genetic analyses helped shed some light on the ethnogenesis of the Iraqw people. Their autosomal DNA has been examined in a comprehensive study on African genetics (Tishkoff, et al., 2009), their genetic profile suggests they descend from the first wave of migrations by Southern Cushitic speakers (ancentral to the Iraqw, Gorowa (Fiome), Burunge, and Mbugu), moving south from Ethiopia into Kenya and then into Tanzania, where they currently reside. The Iraqw did not absorb much Bantu or Nilotic admixture from nearby populations and are still predominantly of Southern Cushitic stock. This could be explained by the practice of endogamy in this community.
The Maasai Tribe
(Image: This Maasai lady is wearing traditional bead jewelry made and worn daily by Maasai women. c.wfidaobali) 
Below: Maasai teenagers after Initiation walking to a neighboring village.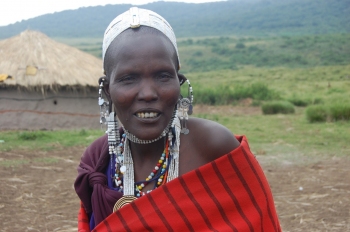 The Maasai are the traditional rivals of the Iraqw tribe. Their nearest village is about 20 miles from Umali Lodge.The Maasai are a Nilotic ethnic group of semi-nomadic people located in Kenya and northern Tanzania. Due to their distinctive customs and dress, and residence near the many game parts of East Africa, they are among the most well known of African ethnic groups. They speak Maa, a member of the Nilo-Saharan language family that is related to Dinka and Nuer, and are also educatd in the official languages of Kenya and Tanzania: Swahili and English. Visits to Maasai villages with Maasai guides can be arranged for interested guests.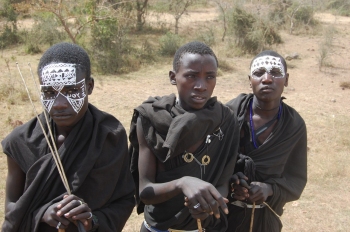 Umali Lodge provides opportunities for Contemplative and Artistic activities

.

 

The tranquil environme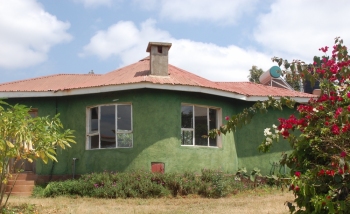 nt at Umali Lodge, combined with the privacy of independent accommodations, offers opportunites for guests who plan longer stays to pursue their talents at writing, drawing and painting, photography, or other creative activities. Avid birdwatchers may find a day at the lodge or on paths nearby to be rewarding. The round house at the top of the hill can serve as a Meditation Room for small groups, or an Artist's Studio.  It has the benefit of a separate kitchen with running water and counter space which can be utilized as desired. Nearby is another empty room which can be equipped with writing desk or work tables.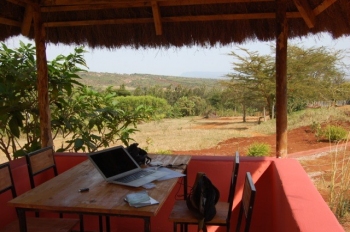 These facilities should be reserved in advance by guests who wish to spend a portion of their time in creative pursuits. They will be responsible for bringing their own supplies and maintaining a clean environment in the studios. Staff will be happy to assist where appropriate. Small groups may also wish to use the facility for their own organized creative activities. Groups which wish to plan for creative activities should review plans with the owners when reservations are made in order to assure that the Lodge can appropriately accommodate their needs. The contact person for longer term group and individual stays  is Dr Wendy Fidao Bali. She can be reached at her US phone number in New Mexico +1 (505) 288-9301. One and two or more week packages are available.
Individual longterm package rates paid in advance: $50 per day Full Boad for 7 days, $40 per day Full Board for 14 days, $35 per day for four weeks and over. 
Group Rates or shared room rates can be negotiated. Room rate remains the same if shared but meals are calculated per person.