Reservations
Seasonal Rates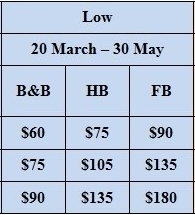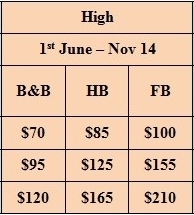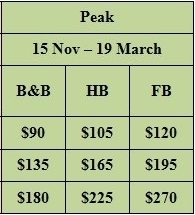 USA Contact:
Mathias Bali, Owner
+1 505 414-7162
East Africa contact:
Raphael Bali
+255 754 612 454
Email:
umali.ltd~lksjdf~gmail.com
Tanzania Contact:
Raphael Bali
+255 787 612 454
Umali's room rates are based on the number of people occupying the room, the season, and which meal plan you choose.  Half Board HB includes breakfast and dinner. Full Board FB includes all meals. Please notify us at the time of booking of any dietary restrictions and/or food allergies and we will attempt to satisfy you.
Longer Stay PACKAGES paid in advance:
Individual longterm package rates: $50 per day Full Boad for 7 days, $40 per day Full Board for 14 days, $35 Full Board per day for four weeks and over. 
Group Rates or shared room rates can be negotiated.
RESERVATION POLICIES
Check In Time: 1:00 pm.
Check Out Time: 10:00 am.
Breakfast is served from 6:30 am to 10:00 am.
Half Rate charges apply for checking out 10:00 am - 3:00 pm .
Check Out after 3:00 pm charged as additional day.
Reservation will be confirmed after 50% of the total received via bank transfer. Please scan and email bank slip to us at umli.ltd~lksjdf~gmail.com.
Deposit to Umali Ltd Account at Exim Bank.
Full payment must be made 48 hours prior to arrival.
Cancellations must be made 4 weeks in advance of arrival date for full refund minus bank charge.
Cancellation 8 - 30 prior to arrival, 50% of reservation will be charged.
Early departure no refund.
CHILD POLICIES
One child 0 - 6 yrs, sharing room with paying adult is free of charge.
Children 6 - 12 yrs, sharing room with paying adult, 50% of charge.
Children 6 - 12 yrs , 100% for first child, 50% for other children sharing same room.
Children 13 yrs and above, pay full room fee.
TOUR OPERATORS